La Porte County, IN- Vanair® Manufacturing Inc., a leading air compressor manufacturer based in Michigan City, is proud to announce its plans to expand its facilities and create additional employment opportunities in the region. The expansion project, approved by the La Porte County Council, will involve the construction of a new facility and is expected to generate 75 new jobs. This development marks a significant milestone for Vanair® and demonstrates the company's commitment to growth and economic revitalization in La Porte County.
The council unanimously approved a confirmatory ERA (Economic Revitalization Area) resolution and a statement of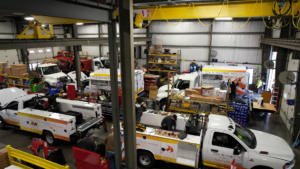 benefits for Vanair® Manufacturing Inc. Vanair®, founded in 1972 as a division of Sullair® Corporation and later becoming Vanair® Manufacturing in 1984, has a rich history in the industry. Under the leadership of CEO Ralph Kokot, President Greg Kokot, and CFO Bill Anderson, the company has consistently evolved and expanded its product offerings, which now include air compressors, generators, welders, Electrified Power Equipment®, battery chargers, battery boosters, and engine starters.
Vanair's expansion project will entail the addition of approximately 100,000 square feet to its current facility, located at 10896 West 300 North in Michigan City. This expansion, valued at approximately $8.3 million, will not only provide increased operational capacity but also facilitate further vertical integration and the incorporation of advanced fabrication equipment. The new building is being constructed by J. Shoffner of La Porte, with completion expected in the fourth quarter of this year.
"We are thrilled to embark on this exciting expansion project and contribute to the economic development of La Porte County," stated Ralph Kokot, CEO of Vanair® Manufacturing Inc. "Our company has experienced remarkable growth over the past 15 years, and this expansion will enable us to meet the increasing demand for our products while creating new employment opportunities."
Vanair® currently employs 160 individuals, and the addition of 75 new positions will further bolster the workforce in the region. The company's commitment to job creation and its positive impact on the local community were highlighted during the council meeting. The Kokot brothers expressed their appreciation for the support received from La Porte County and its economic development initiatives.
"We are proud to be a part of the air compressor hub of the U.S. here in Northwest Indiana," remarked Greg Kokot, President of Vanair® Manufacturing Inc. "We are grateful for the collaborative efforts that have put us on the map and allowed our business to thrive. This expansion will allow us to better serve our customers and further contribute to the local economy."
The La Porte County Council, the Center for Economic Development, Planning and Governmental Affairs, and other local stakeholders have praised Vanair's commitment to fulfilling its promises and exceeding expectations. The company's strong community involvement and dedication to both economic growth and local engagement have been commended.
This expansion project represents a significant investment in the future of Vanair® Manufacturing Inc. and La Porte County. The company remains committed to providing high-quality products and services while contributing to the prosperity and development of the region.