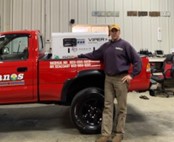 Philip J. Stylianos Inc. provides installation and irrigation system services throughout southern New Hampshire's commercial and municipal sectors, as well as the high-end residential market. During freezing temperatures, the company's work pivots to winterizing irrigation systems by blowing them out with compressed air. When an irrigation system on a property in the Northeast is not blown out during the winter, it can wreak havoc. State and federal law require backflow preventers, which are typically made of brass with some copper fittings. "During times when temperatures go well below freezing for a night or so, if the property owner did not shut the water valve off, the water that stayed in the pipe is frozen," notes company owner Philip Stylianos. "After the water in the pipe turns to ice, the pressure is so strong that it destroys or damages a lot of backflow preventer components, with the damage also traveling into the irrigation system itself," he adds. Stylianos notes that while most irrigation system main lines are made of PVC pipe or black polyethylene, "a lot of the fittings or connections are plastic, so things can still crack if they hold water. That's one of the most important things about having the system winterized."
One of the first tasks in winterizing a residential system in the Northeast is to identify the water shut-off valve location, close the waterline, and attach a tag indicating it should not be opened during the winter months to protect the irrigation system water line. "After the water shut off, there is an attachment where we hook up our airline," says Stylianos. "Once that is hooked up, we will select a zone or a station on the control panel. We start the compressor and start expelling the water in the pipes. Typically, it takes two to three minutes to effectively blow out an average residential system, depending on the property's size," says Stylianos. Some of Stylianos' residential clients live in rural areas with steep driveways. Typically, Stylianos has trucked in a large 185 CFM tow-behind compressor for
those jobs. That type of large air compressor is also required to maintain athletic fields, where an extensive amount of air is needed. But at some residential properties, "we get to the top of the driveway and there would be three or four cars there. We have no room to turn this thing around and get back down the street. It is very time-consuming and a lot of twisting of your neck to back down a steep grade," says Stylianos.
Vanair® Viper™ Offers Solution to Challenges
Looking to mitigate that challenge, Stylianos spent extensive time researching compact air compression systems and kept returning to the Vanair® website. He was pleased to discover that with the Viper™ Diesel Rotary Screw Air Compressor (Model D80) he could have a unit powerful enough to complete his toughest jobs– yet compact enough to fit in the back of a small pickup truck. The D80 model he chose features a skid-mount design with 80 CFM, 3600 RPM, and 100 PSI. Three additional models round out the Viper™ Diesel Compressor line, which include:
Model D60
o 60 CFM
o 150 PSI
o 3600 RPM
Model D70
o 70 CFM
o 125 PSI
o 3600 RPM
Model D70A
o 70 CFM
o 100 PSI
o 3600 RPM
Stylianos purchased the Viper™ Diesel Rotary Screw Air Compressor (Model D80) in August 2020 and put it into service the next month. "When you see the size of this little machine and the sheet metal work on it, it's nicely laid out. It's a well-thought-out design," Stylianos says. Using a push-start control panel, the Viper™ D80 enables end-users to access all the air power needed for a job, at half the cost of tow-behinds or cross mounts. In addition to blowing out irrigation systems, it's designed to run 90- pound jackhammers, one-and-a-half-inch impact wrenches and operates up to four-inch piercing tools. The Viper™ is enclosed in powder-coated, galvannealed sheet metal with a lifting bail. It is easily maintained through a removable front panel and a hinged top with a spin-on air-to-oil separating element. It features a 60-amp alternator and an integrated battery. A cooling baffle ensures proper
ventilation, protects the machine from debris, and reduces noise. There is extra DC power for air after cooler use. The air compressor features a direct-driven (with no belts), oil-injected, rotary screw encapsulated air end. There is a lifetime warranty on the air end. The liquid-cooled engine has an auto start and shut-off, and glow plugs. The system's instrumentation features: an hour meter, pressure, and temperature readout, fuel gauge, and engine RPM. Safety equipment features include: a high temperature shutdown compressor and engine, a low engine oil pressure shutdown, an air pressure relief safety valve, a minimum pressure valve, an automatic blowdown on shutdown, an oil fill plug safety relief, and a high-pressure shutdown for the compressor. Options include: service/control line
moisture separators, a filter/lubricator/regulator, an OSHA safety valve (velocity fuse), a tool oiler/lubricator, a cold-weather package to prevent freeze-ups, a remote instrument panel, an air after cooler, and a remote fuel tank, along with maintenance kits, air hoses, hose reels, and fittings. Stylianos set up his Viper™ with an electric hose reel from where it sits in the back of the truck. "When we're done servicing a property, we press a button and then guide the hose back in its reel," he says.
Irrigation Company Derives Return on Investment
Stylianos says his crew can travel up to 45 miles from the shop with the tow-behind air compressor. "It's a little bit overkill sometimes, especially when doing a residential closing or a blowout," he says of using the tow-behind compressor. "The fuel tank is much larger than the Viper's, but it also burns much more fuel than the Vanair Viper™." While Stylianos intended to use the Viper™ as a backup machine a few times during the season, it is now the go-to machine a few times a week, to winterize numerous properties that require a blowout. Stylianos says the Viper™ is powerful enough "On some irrigation systems we maintain; we can physically winterize two sections at a time, which does require more volume of air for the machine to produce. Instead of waiting two to three minutes to do one zone, we're doing two of those at once, getting us off the property sooner and proceeding to the next location."
Stylianos is impressed with the Viper's nine-gallon internal diesel fuel tank, which "will keep us running almost all day long without refilling," he says. He also likes that the Viper™ is powered by a three cylinder, 24.8 HP Kubota® Tier 4 certified engine. Kubota® is the same engine manufacturer of the engine in the company's larger tow-behind air compressor and with which he has had success. "The engine will speed up when larger air volume is in demand, and when it's not, it just reduces its efficiency downward to conserve fuel," he says of the Viper™ 's variable speed
control. "We also use this machine on light commercial properties, and it works perfectly. It really doesn't consume a lot of fuel. I like to say it just sips fuel." Stylianos previously had concerns about not being able to determine how much fuel was being used in a day, given the Viper™ unit is mounted in the back of a small truck, were alleviated when he noted that the fuel gauge is built into the LCD display. He also likes that the unit runs quietly. Plus, "there's the ease of not worrying about losing 10 to 15 minutes backing down a steep driveway. My neck is very happy," he says. "I'm not having to twist and back up looking for obstacles. It is one of the biggest benefits we've enjoyed from the machine."
Stylianos also appreciates that not only was the Vanair Engineering Team responsive to his many
questions before purchasing the unit, but after the sale as well. "I talked to real human beings, and they
were very professional, attentive, and courteous," he says. "I can't say enough about Vanair's customer
service. They told me to call back if I had any other further questions." No sooner did Stylianos start
using the Viper™ then he decided he'd be outfitting another truck with a Viper™ in the future. "Like a
kid in a candy store, when I saw it, I said we had to try it," he says. "After the first day, I told a co-worker
that we should have gotten this or a few of these a long time ago!"