For 50 years, Vanair® has been partnering with companies to develop cutting-edge air excavation technologies using our PTO Underdeck Systems. There are times a construction project's goal is best achieved through air excavation to provide clean, dry digging for potholing or daylighting- namely when working around electrical wiring. As a result, air excavation has become a preferred method for digging on many jobsites ranging from utility work to advanced tree care. This excavation practice is favored over mechanical digging since it nearly eliminates the danger of damaging underground utilities and the potential danger to employees when energized or pressurized utility lines are exposed, which can occur when using hand tools or backhoes.
What is Air Excavation?
Air excavation allows for a non-destructive and extremely accurate way to excavate soil, locate, and unearth underground services. Air excavation, also known as dry excavation, is the process of using and aiming compressed air to disturb the earth's soil which is then vacuumed up into a debris tank. In the air excavation process, the vacuumed debris can then be utilized to immediately back fill the site for compaction, saving time and considerable expense. Why is this a big deal? Often a jobsite exists where you can not readily source clean dirt for use, or conversely, operators would have to travel over a distance to dump contaminated dirt and purchase clean fill.
Municipal Codes Are a Major Consideration
When would a construction project consider air excavation? In addition to practical operational decisions, municipal codes often play a major consideration and include:
• Water availability
• Water restrictions
• Attaining fresh backfill
• Dumping and proper disposal of contaminated soil
• Electrical, telecommunications, gas, water, sewer, etc. lines on-site
• Inaccurate utility maps and records
Air excavation can continue uninterrupted for larger jobs and is not restricted by the availability of water or the removal of contaminated dirt (spoils), increasing productivity and operational efficiency.
Vanair® PTO Driven Underdeck Systems
Vanair partners and supplies the air excavation industries with a range of customized and ready-to-go PTO Underdeck System Kits that provide up to 300 CFM and 250 PSI. The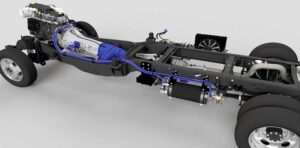 truck sizes range from class 4 chassis that double as service bodies, flatbeds, and dump trucks, all the way up to class 8 units which are often dedicated vacuum excavation trucks. With the highest CFM and PSI on the market, Vanair retro kits for older hydro-vac excavators are also available to add air excavation capabilities. Underdeck systems provide the air power needed for equipment without claiming space above the truck frame or using the hitch to tow.
Vanair understands the need for high dependability, durability, and reliability in equipment when on a jobsite. We have developed patent-pending designs that nearly eliminate downtime on our PTO Underdeck Mobile Systems. Vanair's patented FailSafe™ Dual Sensory Redundancy System provides critical backup security if thermistor or transducer sensors should fail. If the primary unit fails, the system automatically switches over to the backup. The operator never even knows that a fault occurred, providing uninterrupted power to get the job done. Another patent-pending design that increases uptime is the optional ThermalGuard® Weather Protection Kit which uses the vehicle's warm engine coolant to preheat the compressor oil and regulators to prevent oil starvation and freeze-ups during cold conditions. This option also aids in the elimination of moisture. The final option Vanair® offers for PTO underdeck systems is an optical oil level sensor. This sensor provides increased reliability readings over other oil sensor technology types, has no moving parts, and is fully protected in a stainless-steel encased sensor housing. With regular, prescribed maintenance, Vanair offers a lifetime warranty on the PTO system's air end.
The Bottom Line
Using a single PTO opening and the truck's own engine for power, underdeck rotary screw air compressor systems from Vanair provide the power needed for your air excavation project. Whether it's air, AC power, hydraulics, or any combination of the three power sources needed, they are designed and available to mount seamlessly under the vehicle, leaving the hitch free for towing other equipment and opening the bed for additional storage space. PTO shaft-driven technology provides the required air pressure and volume needed on air excavation jobs to increase productivity, lower maintenance, and save money on fuel costs, and provide increased safety for your personnel.
Vanair® is Here to Help
For 50 years, Vanair® has been providing Mobile Power Solutions® and offers the most comprehensive product line of vehicle-mounted: air compressors, generators, welders, hydraulics, chargers/boosters, engine starters and custom products in the world. Where you need it, when you need it, and how you need it… Vanair's there. And we'll be there for you too! The Vanair team of technical experts are here to help by phone 1.800.526.8817 or e-mail media@vanair.com.