MICHIGAN CITY, IN, – October 18, 2023 – Vanair®, the leading manufacturer and innovator of Mobile Power Solutions®, is proud to announce that Rental, the nationally recognized magazine serving rental equipment professionals, has named the Air N Arc® 330 Diesel ALL-IN-ONE Power System® as a Rental 2023 Editor's Choice Award winners.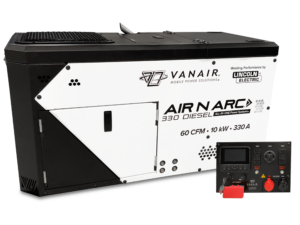 The 2023 Rental Editor's Choice Awards represent the equipment rental industry's best products gaining interest from end-users and rental professionals alike. The awarded products, exhibiting innovation and utility, were chosen based on submitted nominations and audience engagement during a 12-month period on ForConstructionPros.com, and narrowed down by the editorial team and advisory board.
The Vanair® Air N Arc® 330 Diesel machine boasts a first-ever collaboration with Lincoln Electric®, the world-leading design, development, and manufacturer of arc welding technology." The Air N Arc® 330 Diesel underscores our unwavering commitment to meeting the evolving needs of our customers," declares Greg Kokot, President of Vanair®. "This powerhouse machine seamlessly integrates a diverse range of functions, delivering an impressive 60 CFM of air power, 10,000W of smooth wave AC electric power, a 330A, 12V/24V battery booster, 50A, 12V/24V/48V charger, and a Lincoln Electric® 330 Amp DC multi-process arc welder featuring Chopper Technology®."

Vanair® is committed to perfecting the system's design to cater to the ever-evolving demands of our customers. Notable upgrades include a Bolt-On-Frame (BOF) kit, incorporating fuel and a battery integral to the unit, attaching effortlessly to the base of the Air N Arc® 330 Diesel. This innovation allows the unit to stand alone and be fully functional without being integrated with the chassis fuel system and battery, enabling effortless removal and installation on and off the vehicle. This flexibility empowers fleets, providing the option to leave the unit behind at the job site. Another testament to the Air N Arc's adaptability is its streamlined access to all functions through a single control panel strategically positioned for convenience and safety.
An ingenious alternative has been engineered for vehicles without a traditional PTO setup or to meet objectives for vehicle idle management. The EPEQ® EPTO Hydraulic System, powered by the Air N Arc® 330 Diesel, offers a greener, quieter, and more efficient means to run the hydraulics of your crane or boom truck with the truck turned off. Moreover, the Air N Arc® 330 Diesel seamlessly transitions into a hybrid system, harnessing Vanair® EPEQ® technology to elevate functionality, including enhanced HVAC comfort during EPEQ® Idle Management. It also facilitates effortless 12V and 24V charging and smart charging for higher voltage batteries. The Air N Arc® 330 Diesel can power a level two EPEQ® EV charger for emergency top-offs for other electrified equipment on the job site.
A cold weather package comes standard, ensuring peak performance even in the harshest conditions.
"Despite labor challenges, supply chain issues and inflation concerns, the rental industry continues to carry on," says Sarah Webb, Editor, Rental. "That's why we're so excited to recognize the winners of the 2023 Editor's Choice Awards. The products that win this award offer innovative solutions to rental companies and their customers, helping them to streamline their operations, boost their bottom lines and become more effective overall."
Rental magazine covers the latest insights on equipment asset management through better equipment selection, important economic forecasts, customer-centric insight, and business management tips surrounding personnel, digital marketing, and finance.
Additional information on award recipients can be found in the October/November issue of Rental and at ForConstructionPros.com.
The new Air N Arc® 330 Diesel ALL-IN-ONE Power System® will be available in January 2024. For more information, visit AirNArc.com.