Vanair® releases EPEQ® product line of  Electrified Power Equipment®. EPEQ® is a comprehensive, patent pending, end-to-end system, of zero emission and clean, quiet, Electrified Power Equipment® products.  The EPEQ®

series is the solution for those customers choosing to operate their equipment on the job site with zero emissions and significantly reduced: noise, heat, weight levels, equipment maintenance costs, and overall vehicle life-cycle-costs. It is also perfect for van-type vehicles that do not have a PTO, and customers who desire to turn their vehicle engine off and still have full working capabilities.
Powered by Vanair's EPEQ® Smart Controller which communicates with a specifically developed line of ELiMENT™ Lithium Iron Phosphate batteries, EPEQ® allows you to turn off the vehicle's engine and run the equipment you need on the jobsite. EPEQ® is a fully self-contained and independent system that can be mounted on, or within, combustion engine vehicles, electric vehicles, or even on trailers. On electric vehicles, it can either work with the host vehicle's batteries, or independently.
"There are many benefits to electric Mobile Power Solutions® when compared to traditional power sources. With the EPEQ® systems we have cut out combustion engines, so when installed in a van or enclosed body there's a nearly 60% noise reduction and no exhaust to contend with. The maintenance required is greatly reduced by removing the combustion engine, as well, and of course there are idle mitigation and fuel savings benefits. There will always be a need for more traditional combustion, PTO, and hydraulic driven components, and we have positioned ourselves to offer solutions no matter the need," explains Chip Jones, Strategic Accounts Manager for Vanair®.
Jones went on to say, "The biggest benefits of the EPEQ® Electrified Power Equipment® products will be for fleets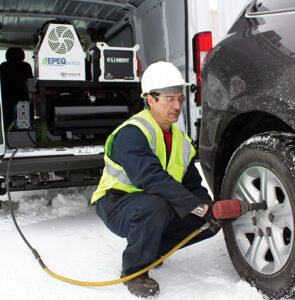 currently running vans or enclosed bodies due to the Clean, Quiet, Power™ that the lineup brings to the market. Electric vehicles will also be a great fit for our electrified products. Vanair® offers the safest Lithium Iron Phosphate (LiFePO4) batteries with patented technologies. We can power traditional PTO-driven components including our air compressors and hydraulic drive packages via our EPEQ® system, rather than having a traditional PTO driven by the chassis engine.
End-to-End System Delivering Clean, Quiet Power™
"Each component in the EPEQ® line is purposely designed and optimized to work within a battery-powered system. The Lithium Iron Phosphate, ELiMENT™ Battery contains a one-of-a-kind Battery Management System (BMS) that has the exclusive ability to discharge power while being charged itself. The EPEQ® System Smart Controller has proprietary software technology designed to intelligently monitor and control all the components in the EPEQ® system. Each component can communicate signals to and from the controller's board allowing battery power supplied to be adjusted based on a range of factors such as: temperature, heat build-up, duty cycle, assigned function priorities, and power remaining. The innovative EPEQ® line of proprietary developed products consists of the: ELiMENT™ Battery, Smart Controller, electric motor-driven and oil-free air compressors, electric-hydraulic power, AC power inverters, welders, Level 1 and 2 EV charging, idle mitigation, electric driven underdecks, electric driven abovedecks, alternators/regulators, and DC-DC converters. Depending on the form of power you need, a single function machine can be ordered or an "ecosystem" product grouping kit, which combines all the functions needed for your application. EPEQ® is the Clean, Quiet, Power™ alternative for: all fleet industries, road construction, heavy moving equipment, mining, municipalities, oil and gas, HVAC, fire and rescue, marine, RV, Recreation, crane, lifting, and light commercial service vehicles.
Chip Jones stated, "Although we have replaced all combustion engines with Lithium Iron Phosphate batteries, the EPEQ® Electrified Power Equipment® product group follows closely to our current lineup in terms of markets and customers that we have worked with for 50 years. For example, in our electric air compressor lineup, we have sized compressors for 5 CFM to 185 CFM, knowing what our traditional markets need. A fleet running small vans that needs a small amount of air occasionally can use our EPEQ® AIR5 oil-free compressor, whereas our traditional utility customers are looking for 185 CFM of airflow. Our traditional equipment and fleet service customers will do great with our EPEQ®AIR20 or AIR45 compressors. We've also expanded our lineup to follow our core products—but in an electrified capacity. We now offer mobile electric vehicle charging through our EPEQ® line, which lends itself to our electrification progress, but also ties into our history of vehicle starting via our Goodall® product line. Vanair® has become the industry leader for these markets, so we knew that when we released the EPEQ® product category that it had to reflect our core values and expectations that our customers have come to expect from us."
Celebrating 51 years of innovation this year, Vanair's EPEQ® Electrified Power Equipment® product group demonstrates the company's intention to continue to be the leader in product innovation. The EPEQ® lineup reflects years of development and testing. End users of this product line are amazed at the ease of use and well-planned technology that has gone into its development. Components are modular to fit any need and, most importantly, have been developed for the specific needs of work truck customers. Efficiency across the board is key when working with battery technologies, and Vanair's engineers have made usage and duty cycle a top priority in products. Vanair® plans to demonstrate its products across the country, and those that have already had the opportunity to experience Clean, Quiet, Power™ all resoundingly say, "It's simply amazing!"